Got a solar system and you are really not sure if it is working as it should be?
You can pay for a solar technician to come out to your house and test your solar system, but any time you have a trades person out you are paying for their time, plus the call out.  Now this is a great thing to do if you actually have a problem and it needs to be fixed – but do you have a problem?
We hear from people every day who have bought a solar system, but don't really understand it.  Or often people buy a house that already has a solar system, and they have no paperwork about it from the previous owner.
Now you should have received a graph, specific for your property, and system, when the solar was installed, however we know that many people never received one (or it has got lost over time).
So what should you be doing?
You should be checking the amount of power made by your system is what is expected.
What we can do for you
With a bit of information from you, we can produce a graph which is specific to your property and system.  It will look like this: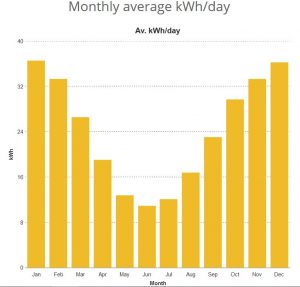 This information will allow you to compare the performance of your solar to the expected output.
If it is making what it should – great.  If not, you have information to give to your solar technician which will make it easier for them to find the problem.
We have the software to enable us to draw up a pretty accurate graph specific to you.
So what do we need from you?
We need some basic information regarding your house, your personal details and details of your solar system, and we will do the rest.
Please complete the following information, and you will need all the information to enable us to do this, and we will send you a personalised graph for only $49.
We will then email your report to you within 2 business days
[contact-form-7 id="3215″ title="Solar Performance Graph"]