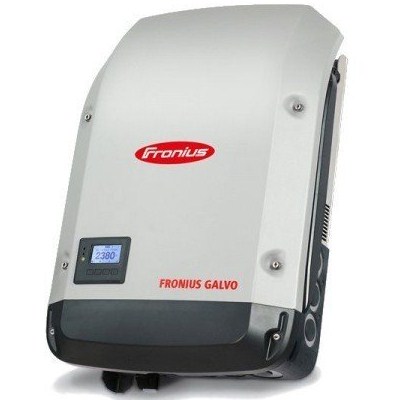 The Fronius Galvo has been available in Australia since 2014, however Fronius have recently announced they are retiring this range. Also with the new voltage ride through rules that came in to force in Sept 2020, it has not be available to install in South Australia since then.
It is available in 1.5kw, 2.0kw, 2.5kw and 3.0kw.
Call us now on 1300 130 546
What Is So Good?
Great Warranty
The Galvo's come with a 5 year warranty as standard, but it was also possible to register for a further 5 years parts only warranty.
It is also possible to purchase extended full warranty up 10, 15 or 20 years.
Great Warranty Back up
There is no point in having a warranty if there is no-one to look after you.
Fronius have Service Partners all around Australia who have been to the Fronius offices in Melbourne for training.  These partners are here to help and often carry spare parts. If you have a problem with your Galvo, they can get it back up and running quickly.
We are a Fronius Solutions Partner, so if you are in Adelaide contact us, as we have a range of spare parts in stock, otherwise contact Fronius on 03 8340 2910.  They can put you in touch with your nearest Service Partner.
Wifi Monitoring
All Galvo inverters come with the option of wifi monitoring.  If you don't look at your inverter from one week to the next this is invaluable.  In the unlikely event you have a problem with your solar system, you will receive an email or SMS with the details.  No more waiting for the bill to find out you got no credits!
Not only this, but you can also monitor the performance of your system on the web, either by computer, tablet or smartphone.
The Fronius Galvo Feature Guide is available here
Anything Else You Should Know About Fronius Galvo Inverters?
If your wifi signal isn't strong enough, the monitoring can drop in and out, which can be a bit annoying as you get emails telling you there is no connection to the internet.
If your Galvo is out of warranty we can replace it however because it is a transformer inverter, and there are now no current transformer inverters on the market in South Australia, we will need to replace the inverter with a transformerless model.  Unfortunately this is not a straightforward swap over, as we will probably have to earth the panels, and may have to upgrade the DC isolators to meet current standards. You can expect a pay a few hundred dollars on top of the inverter replacement cost, for this.  If you only have a small solar system it might be time to consider replacing it with a larger system, however if you are on the high Feed In Tariff you will lose this, so make an informed decision.
Call us now on 1300 130 546
About Fronius
Fronius are an Austrian company, and they have been in business since 1945.  The company was founded by Gunter Fronius, who until recently was still actively involved in the family company.  They have 3 divisions, solar electronics, welding technology and battery charging systems.
They have an office in Melbourne, where they house a very knowledgeable, helpful technical support team.